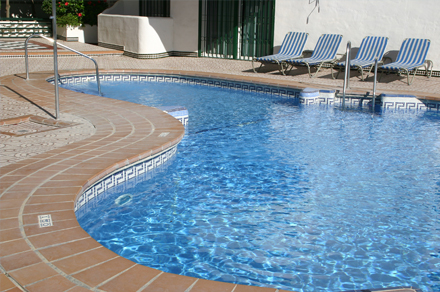 We offer a unique process much stronger than any conventional surfaces:
can be applied over most existing surfaces
saves on operating costs
no more acid washing
wire brushing or remarciting
a reputation unsurpassed
designed to outlast and outperform all other surfaces on the market today
instantly improve the property's image.
A fiber glass surface, or fiberglass pool repair provide an impervious seal for swimming pools. The fiberglass process is a strong, long lasting, watertight surface that bonds easily to concrete and steel and yet remains flexible to structural movement. The strength comes from bonding a fiberglass mat between four layers of top quality resin.
CALL TODAY FOR A FREE NO OBILGATION ESTIMATE! 727-375-2522 25 YEAR WARRANTY
Johnson Pool and Deck Resurfacing, Inc. has been located in Pasco county Florida since 2002. We proudly serve all of the Tampa Bay area with
pool and deck resurfacing
. Our company for
pool resurfacing in the Tampa Bay
area is a family owned business, boosting 20 years experience in pool resurfacing, deck remodeling and custom tile work.
Specializing in Swimming Pool resurfacing, our company is your number one source for professional service. We surpass the competition, in not only price, but value as well. We use the best material possible, which enables us to offer a 25-year limited warranty on our materials. The Fiberglass process is so much stronger than a conventional surface. It lasts between 25 and 30 years. It won't' crack like concrete, wrinkle and tear like liners, or rust and leak like steel walls. That's why thousands of homeowners have come to trust Johnson Pool and Deck Resurfacing, Inc.
SERVICE AREAS
We are based in New Port Richey, Florida and provide Pool & Deck Resurfacing Services throughout the entire Tampa Bay area including the following areas:
Pasco County
Pinellas County
Hillsborough County
Hernando County
If you don't see your location listed, just call 727-375-2522 and we would be happy to discuss what options we have available for you!​
TESTIMONIALS
"We were very pleased with the professionalism of this company. Marc explained everything in detail. We even got the job done before the anticipated date!"
– John & Laura G.