Pool and Deck Resurfacing Services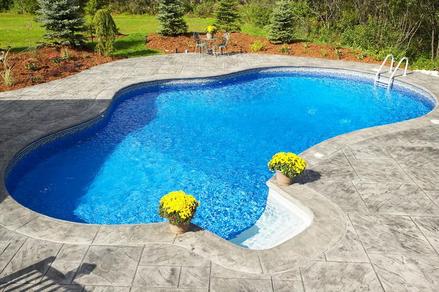 We at Johnson Pool and Deck Resurfacing, Inc. offer expert pool and deck resurfacing services, to help keep your pool looking sharp, and working properly. We at Johnson Pool and Deck Resurfacing Inc. specialize in Fiberglass swimming pool resurfacing and fiberglass pool repairs. We also offer custom Tile, acrylic decking and some swimming pool repairs to make sure you have all swimming pool services and repair options available to you. Fiberglass can be laid over concrete surfaces. When you call for an estimate, one of experienced professionals will come out to your home and provide you with an Informational Package. It includes copies of our Contractors License (RP252554816), Liability Insurance, Brochures and references. Please view our Gallery of Incredible Before and After Photos to get a better idea of the amazing work we do! CALL ME TODAY FOR A COMPLETE INFORMATION PACKAGE, REFERENCES, AND AN ESTIMATE! REACH ME AT 727-375-2522.
If you have any other questions about our services, or about our company offering pool resurfacing in the Tampa Bay area, please don't hesitate to contact me. I would love to answer any of your questions and help you get the right resurfacing deal for you. I look forward to doing business with you.
APPLY THE FIBERGLASS ADVANTAGE
HAND-LAID APPLICATION
All Fiberglass surfaces are applied by hand, to ensure an even layer of thickness and structural strength. The advantages of a hand-laid application ensure the customer of a smooth, uniform and watertight seal.
SMOOTH
A Fiberglass surface is non-abrasive, so there are no more skinned elbows or bruised knees. And the very smooth surface provides a more attractive appearance that is easier to keep clean.
QUICK INSTALLATION
A Fiberglass surface can be applied by hand to an existing facility in a matter of days, providing a quick but long-lasting solution to surface problems. Less downtime means more satisfied clients.
EXPERIENCE
Johnson Pool & Deck, Inc. is one of the country's largest installer of Fiberglass coatings. With over 20 years of experience, we assure quality and durability in our materials
THE ADVANTAGES OF FIBERGLASS ARE CLEAR
What lies beneath a Fiberglass surface is more savings and fewer problems for you. And you'll spend less time on maintenance and more time enjoying your pool.
THE MOST FOR YOUR MONEY
We can provide you with a free estimate. At first glance, it may not seem the least expensive option, but a one-time investments in a Fiberglass surface will pay for itself in reduced maintenance and chemical costs. Your clients will never have to worry about cracking or leaking surface again.
25-YEAR LIMITED WARRANTY
The durability of Fiberglass combined with the special Fiberglass resins make a surface so strong, Johnson Pool & Deck, Inc. warranties its product against product failure for 25 years.
CALL JOHNSON POOL & DECK, INC.
If you have a resurfacing or new construction project in the works now or anytime, call Johnson Pool & Deck, Inc. We'd be happy to provide you with more information, specifications, and a list of commercial references, as well as a no-obligation estimate.
TESTIMONIALS
"I love my new pool. Marc did a great job. He explained what he was doing every step of the way and answered any questions I had. The pool is beautiful, couldn't ask for a better job. If you have to wait to get your pool redone, its certainly worth it. I love my new pool. Marc did a great job. He explained what he was doing every step of the way and answered any questions I had. The pool is beautiful, couldn't ask for a better job. If you have to wait to get your pool redone, its certainly worth it. So many people don't care about their workmanship nowadays, but Marc certainly does. I highly recommend."
– cingroomer5